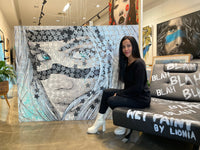 GALLERY: 538 Chapel St South Yarra
The Artist - Lionia
Over the last few years Lionia has become a recognisable and innovative portrait artist on the Melbourne art scene. Her work has been embraced in Australia and internationally.
Lionia has a keen eye for character and a particular interest in the beauty that lies at the heart of our diversity.
She is best known for her Faces of the World grand scale original portrait art. However her subject matter and medium is fluid. Much of her current contemporary art features Gold and gloss highlights.
Lionia's exhibitions are sensory events with art, music and live performances making for a memorable experience.
In every sense, Lionia's intention is to create art that moves, challenges, inspires and or touches us.
The results are striking and memorable.
.
Next Event: CHRISTMAS IN JULY
Sat 29 July 2023. 7.30 - 11pm
Intimate performance by Andrew De Silva, Australia's Got Talent winner.
Enjoy Live music, fine wine and a chocolate fountain amongst the art!
Tickets: $40 each.
Free Gift bag with handmade Chocolates, Discount vouchers for deals on Wine, dining and home decor.
MASSIVE ART DEALS ON THE NIGHT.
Christmas in July Tickets
Artwork for Sale in Melbourne
Looking for memorable art for sale?
This online store gives you the opportunity to discover and own from a captivating collection of artworks by Lionia. Lionia is a highly skilled and experienced portrait artist, renowned for her artistic creativity - flirting with accurate representations and stylised contemporary work through her exceptional painting style. A distinguished portrait artist, Lionia's creations are admired in Australia and internationally. With fluid subject matter and projects featuring gold and gloss highlights, her collections are truly unique and beautifully capture emotions.
If you have been looking for art for sale online in Australia, you can choose from Lionia's stunning portrait creations. Her works are inspired by cultures and make the perfect statement piece that tell stories and create talking points.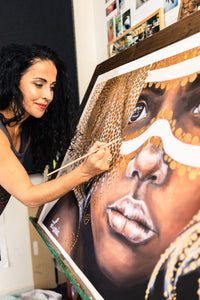 Custom Art for Sale
Commission a private piece and get a truly personal artwork. With Lionia's rich experience in a broad spectrum of styles and the sharp detailing, you will get a final piece that surpasses your expectations.
Skillfully Created Portraits by Lionia
If you are looking for art for sale online in Australia, you will be impressed with the original works by Lionia. Browse through Lionia's online art gallery to view an unparalleled collection. Bringing you the very best in Australian art for sale, the artwork by Lionia is timeless and truly unmatched.
Whether you want to commission a portrait or are looking for an artwork, there are stunning options to choose from.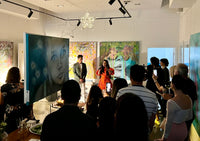 ART Exhibition Events
NEXT EVENT: TO BE ANNOUNCED SHORTLY.
Previous event:
21 April 2023 - 'Elysian' Music and Art
An immersive night, fusing art with sound. Experience the magic of Amy Rita - one of Australia's most promising young contemporary classical composers as she performs amongst new artworks inspired by her music in the gallery.
Join the mailing list for regular updates, invitations to events and special offers. 
Lionia's events offer a sensory experience. Of course her art is at the centre but music, live performances and great energy are a big part of the vision.
Art is about an experience and emotion, not just paint on canvas. See, hear and feel the passion and enjoy.
Original Artworks, new Deluxe art and numbered Limited Edition collectables are available to purchase now. 
See the incredible range and scope of Lionia's work.
Mailing List